When a volunteer becomes one of your best friend…
Volunteering is an amazing platform where people with different nationalities, professions, ages, and faiths can change the world but also become best friends for their whole lives!
This is what happened to me, when in 2007 I met one of the most amazing and kind hearted volunteer – Sigbjorn Pilskog. He came to Moldova for the first time in the summer of 2006 for 4 weeks to volunteer in the orphanage. At first, I looked at him oddly, wondering what a Norwegian man in his 50s could be doing here? But after just a few hours he became one of my favourite people of the planet!
This was the most difficult summer for the project as it was just the beginning of it, we had very little experience on international volunteering and added to that, the project director then had a car accident whilst travelling with volunteers, which created unbelievable problems. He was the only volunteer that didn't change his attitude towards us, but also the one who helped us to keep the project go on, in a positive way.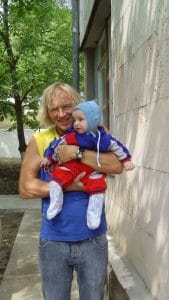 During those first 4 weeks he spent time in the baby orphanage, as well as visiting children in the other 2 orphanages for older kids – he worked so very hard to give to the kids his love and attention! They were happy around him and even now after so many years I remember how much happiness he managed to put into their little faces.
Since that summer he has been one of the volunteers that always comes back to Moldova and helps with the fundraising. There have been situations when he has changed people's lives, like helping to buy a house for a family when their house burnt down and the parents were left on the street with 2 young children. He has also paid for children's operations, medicines, toys, nappies, food, family's fire wood, activities – the list goes on! He helps whenever he is asked to, sometimes even without being asked – just because he is a nice person.
Every time he has come to Moldova, other volunteers and friends would also be inspired by his personality – a person that makes you feel good while you are around him. Beside the fact that he is a great volunteer, he is one of my best friends and I'm very proud of that. He has been there for me any time I've needed him and has supported me in the most difficult moments of my life. I could keep going but he might get too embarrassed, so I'll finish by saying that I could not ask for a better friend than you and thanks for that! ☺
This is one of the things that I love about Volunteering – that it can give opportunities and bring happiness not just to disadvantaged people and children, but it can make us – volunteers – happier and it can build life lasting friendships!