To: Maria Sweetnam, Mercy Fleming, Orla O'Connell, Liz O'Leary, Linda Walsh, Breda Purcell, Timothy William, Mary Buckley, Ann O'Meara, Louise O'Reilly, Clare Fitzsimons, Sheila Sweetnam, Austin Long, Mary Kenny, Richard Jennings, Mattie Connelly, Padraic Flannery, Elisabeth O'Learry, Lizzy Stringer.
I've been hosting international volunteers in Moldova for over ten years now. I've hosted over 1000 people, mostly in my home. Through the years I have been very lucky to meet so many amazing people, with great motivation and a big heart for people in need. I've been asked many times if there were some people who I didn't really like and my answer is always NO. People who decide to come to Moldova, especially if they pay to cover all of their volunteering expenses can only be described as great human beings.
I'll be honest, even the most devoted volunteers including myself experience lack of inspiration and motivation from time to time. In those situations, i'm very lucky, because my volunteers always help me keep myself motivated and strong enough to continue improving the lives of vulnerable people in Moldova.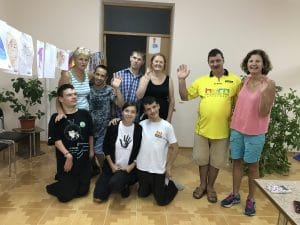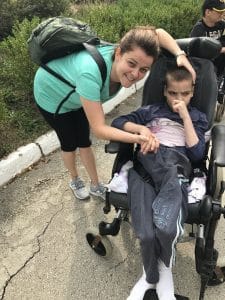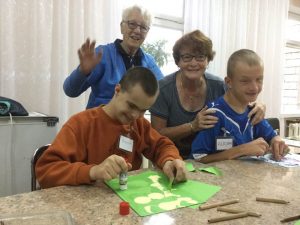 Today I want to write about some very special people, a group of Irish volunteers mentioned at the beginning of this article. I was blessed to receive an email from Mercy about 4 years ago asking if they could join our project. And since then, every summer they come back to bring happiness and opportunities to the vulnerable children. Fundraising is always tough for every charity, especially for the small ones. Well, these people are doing lots of fundraising in any way they can and they have amazing results, approaching companies in Ireland, asking friends to donate, organising fundraising events etc., money that greatly helps us to achieve our goals during the year.
In 2017 they sent a whole truck of over 13 000 kg with donations such as furniture, medical supplies, games/toys, clothes, shoes, hygienic items, blankets, duvets and pillows, shoe boxes from Santa, nappies, walking aid, pallets with paint that we are still using for the Building Projects, household items, lots of baby stuff etc. They have collected all of these donations from the people and companies in their community, which is a great example of social responsibility! Thanks Maria Sweetnam and the whole group for your enormous efforts to make things happen and Austin Long for driving the truck over and your patience to get it out of Moldovan customs! I should say it, that was the biggest challenge!!! Thanks Moldova for "welcoming so warmly" the donations that got stuck in the custom for almost 4 days! That was an experience! Never again!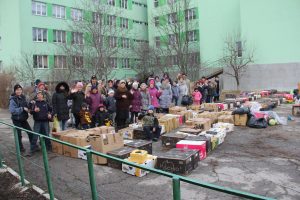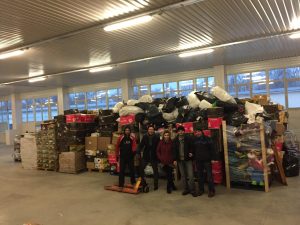 Surely inspiration comes in all shapes and sizes. But what amazes me the most is that those volunteers have come to Moldova for the last 20 years, some of them every single year!!! Before they were working with another charity helping disabled girls in an institution, but I'm happy that now we get the chance to work with them! This is a truly blessing and being around those people makes me learn more about unconditional love, service, giving opportunities and giving joy to the people in need! Remarkable!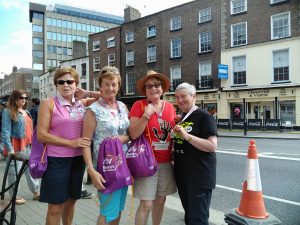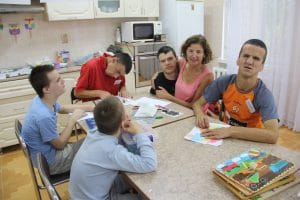 Often, I catch myself thinking about all of these amazing people which brings me to Margaret Mead's idea: "Never doubt that a small group of thoughtful, committed citizens can change the world; indeed, it's the only thing that ever has".  So true… But again, why did they choose Moldova? Why we are the lucky ones? I guess the answer is simple, we are just blessed to have them and probably at the end of the day, it doesn't really matter if it's Moldova or India. There is just something truly special about being able to contribute to the greater good! Because isn't it true happiness to help others?
Thanks guys for everything you did and continue doing, for being yourselves and making this country a better place for everyone!